Multiple Pinterest images can boost your traffic from Pinterest. For this to work, the images really should be optimized for Pinterest and all lead to the same URL. I do multiple images in one of two ways, depending on my post.
Different Images: If I have multiple images for a post, I create optimized Pinterest graphics with those images. These pin images usually have the same or similar headlines.
Different Headlines: If my post is comprehensive, I create optimized Pinterest graphics with different headlines. These pin images may or may not use similar images, it just depends on what I have available.
Here are examples of two sets of pins—everything in the top row is a pin to my DIY Paper Storage tutorial and everything in the bottom row is a pin to my Cricut Pen and Writing Tutorial.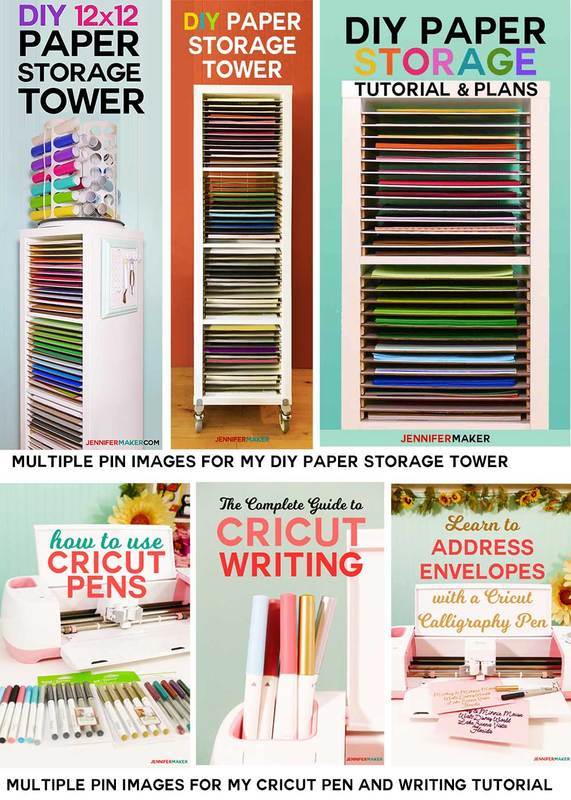 This WORKS!! I think having additional images, all pointing to the same URL, gives Pinterest the signal that this is a popular post and it is more likely to show it. That's my theory, at least.
Now that I can see how well it is doing for my pins, I'm going to back through my popular posts and make new pins for them as well. My goal is to have at least three different optimized pins for every post. And by optimized, I mean it is vertical and with a text overlay in a strong, easy-to-read font.
I find it is easiest to make multiple pin images all at once when I make my initial one rather than going back afterwards.
I put all of them at the bottom of my blog post initially, but after I pin them all to Pinterest, I may remove one or two. Or I just keep them all in. I don't think it matters a lot since they are at the bottom of my post.
So if you're working on Pinterest images, try making some extra ones and pin them to relevant boards with related keywords. Let me know how it goes!
Tip: I had Kara Fidd create 20 Pinterest images for me. She did a wonderful job of creating some really vibrant, eye-catching images. They were all duplicates of popular posts I've pinned in the past, but with new images. I've been releasing them one day at a time and my Pinterest traffic is already up about 40% (which is saying something because it's been on a downward trend all month — typical for this time of year). I've talked about doing duplicate pins before, and having someone else make them — like Kara — is a good way to get different images out there. Her rates are very reasonable and she has an excellent turnaround. Check out her graphic packages at https://simplifyingdiydesign.com/the-shop… (I'm proud to be an affiliate for her) — I highly recommend you give this a try if you have the funds to invest in your blog.