Want to use Shopify for a tripwire but hate all of the hoops your customer has to jump through? I can help!
In January 2018, I created my first low-cost product and created a simple "tripwire" upsell page. I used LeadPages to create a tripwire page and SendOwl to sell my digital product. This actually worked really well, sales-wise, and I generated $21,578.63 from this $7 product from January-November 2018.
But, one of the things that happens when you have a higher volume of anything is little problems can become big problems. And I started getting more and more emails from readers who had problems getting my product. Usually the problem was that they just never got the email, but sometimes they also had issues checking out.
After some research, I realized this mostly had to do with SendOwl. While the SendOwl system is simple and made it easy for people to buy, it was SO simple that it was sending people's confirmation emails to their PayPal address. And a lot of people weren't using their PayPal address for their regular email (and never thought to check it). Hence, I had questions and even a few angry customers. This was NOT good.
So when I created my second low-cost product in September 2018, I decided to try a new way of delivering the digital download. I'd heard really good things about Shopify and I knew you could use an add-on to deliver digital products. Shopify is the gold standard of e-commerce these days and it has a proven track record. The only problem is that its checkout is traditional, not streamlined like SendOwl. You have a product page, a cart, and a checkout page. If I were to send people to my product page, they'd still have to jump through several more pages to actually buy the thing. That isn't what I wanted. I knew that going right to the buy page is going to work best for a tripwire upsell offer.
It took a while, but I figured out how to send people right to a Shopify payment page with a simple checkout for a tripwire upsell. I want to save you the time I spent and teach you just how to make that URL!
Note: Many thanks to Tasha Agruso for suggesting this simpler way of grabbing the Checkout Link (my original method was nowhere near as easy).
How to Get a Checkout Link for a Tripwire/Upsell Page
First, you need to create a Shopify store, if you haven't already.
Now you need to add your product to your Shopify store. And you need a digital download add-on. I recommend SkyPilot.
Once you have a store and have a product in it, click the + sign next to Sales Channels in your backend Shopify store and add "Buy Button" as a sales channel. Now click Buy Button under Sales Channels.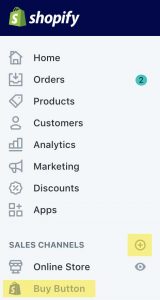 Click "Create Checkout Link" (do NOT click the Create Buy Button).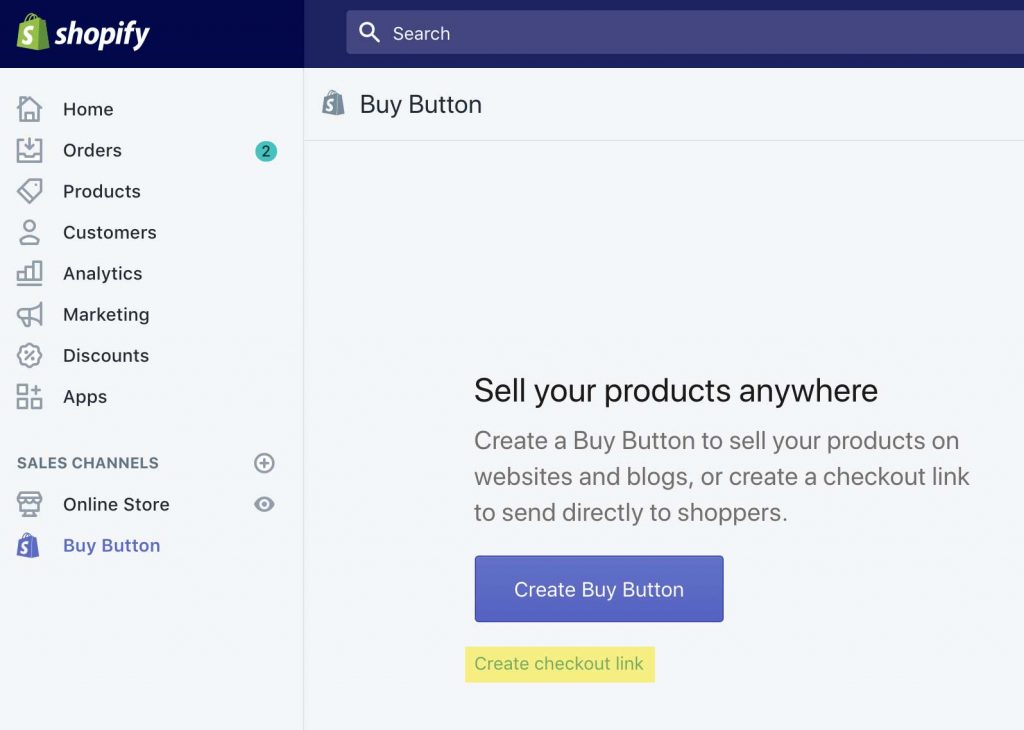 Select the product you want to get a link for and click Select Product.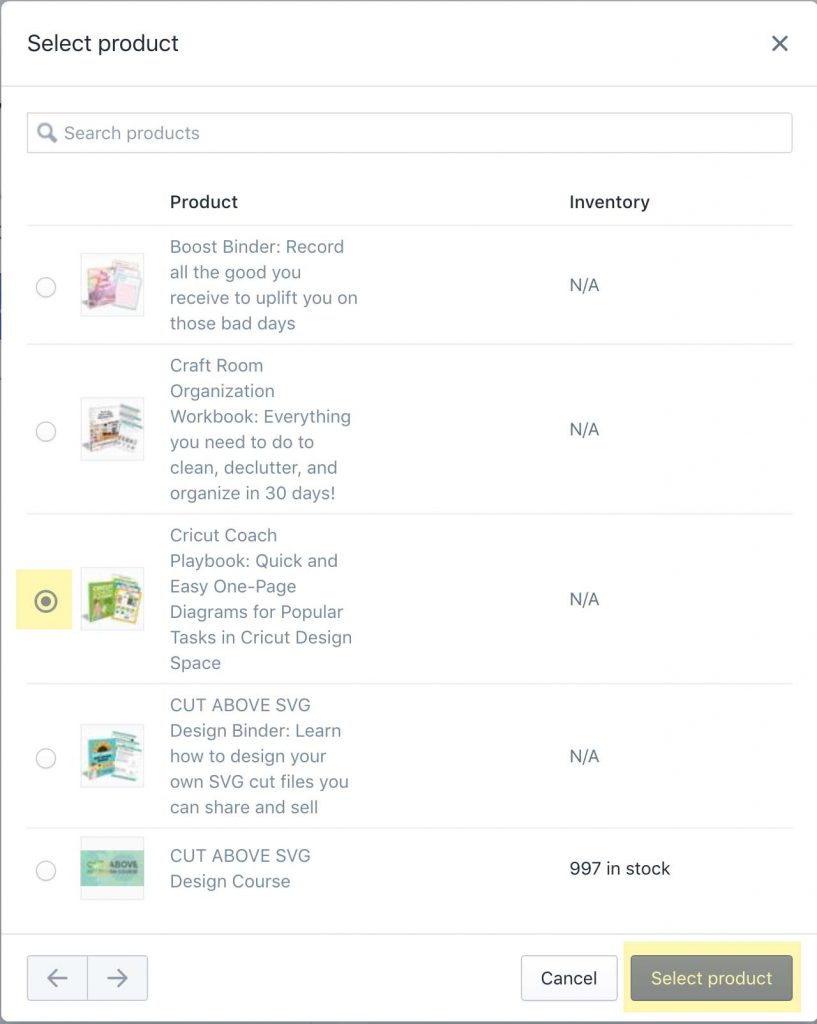 Now just click "Copy Link"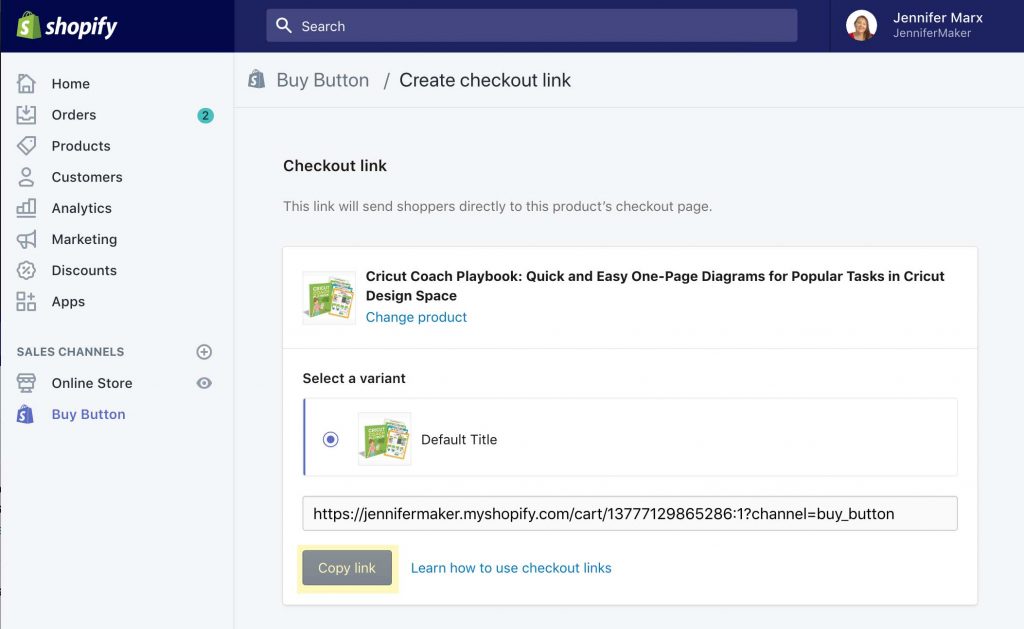 Now you just put that URL on your "Buy Now" button on your tripwire upsell page. Easy peasy!
This URL will send a customer to your Shopify store, prefill their cart with one (1) unit of your product, and skip right over the product page and cart page. Here's what that it looks like when you go to that URL: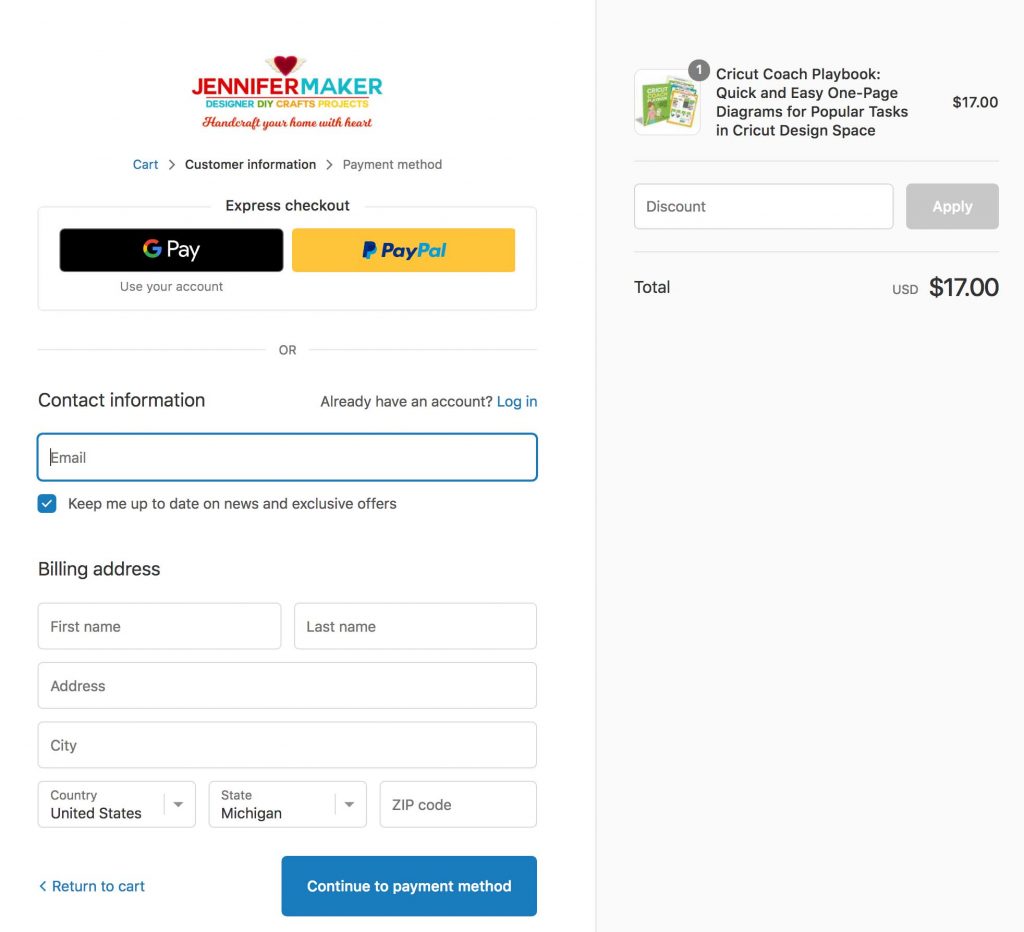 And that's all you need to send people right to the Shopify payment page for your product in a tripwire upsell page!
How Discount a Product for My Tripwire?
You can do this by first creating a discount for your product, then make a note of the discount code you chose.
Now just add &discount=CODE (where CODE is your actual discount code) to the end of your URL, like this:
https://books.jennifermaker.com/13777129865286:1?channel=buy_button&discount=blogwhatyoulove
Alternatively, you can have an URL like this:
https://books.jennifermaker.com/13777129865286:1?discount=blogwhatyoulove
How Does Shopify Compare to SendOwl?
So even though I'd figured out how to send people to the Shopify payment page in my tripwire upsell page, I still wasn't sure Shopify was going to be better than SendOwl. So I conducted a test between the two!
For my experiment, I sent out a letter about my new product to 60,000 people. Half of them got a link to the info page that leads to the Shopify checkout, the other half got the same info page that leads to the SendOwl checkout. They were otherwise identical.
After several days, I compared the conversion rates of the two. The conversion rate of the SendOwl link was 15%, but Shopify was 19%. My dataset was 1567 sales page views (743 for Shopify link, 824 for SendOwl link) which resulted in 271 orders.
Not only did the Shopify payment page convert better than the SendOwl payment page, but customer service issues were better, too. I received seven customer service issue emails during this period, and ALL of them were related to SendOwl orders (problems included blocked download links, wrong email, gateway errors, file download issues, and expired downloads).
At this point, I feel confident that Shopify is the way forward for me. I will use it from this point on, because seven customer service issues is seven too many!
How is Shopify Working For Me?
Shopify has been working REALLY well for me. I've generated $33k of sales in the 45 days since my Shopify store opened (the big spike in the beginning is from the email I sent out, the rest is from my tripwire and product sales pages).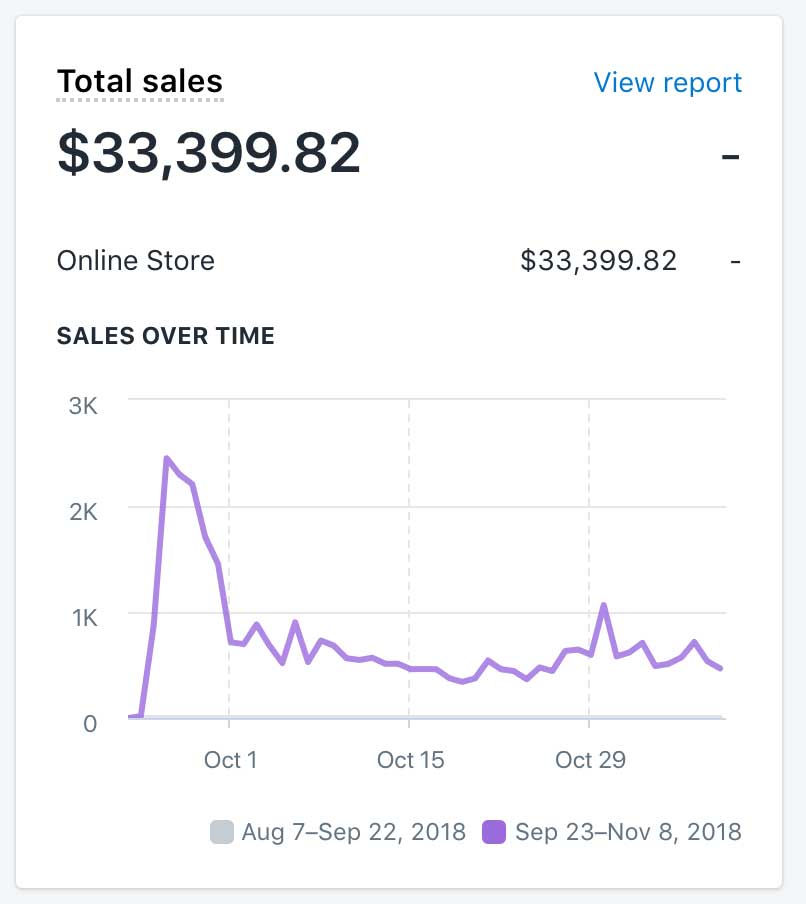 I hope this has helped! If you more questions, feel free to email me at [email protected]
Love,
Jennifer